The company is a modern enterprise integrating professional R & D, production and sales . Our company has an insight into the future, takes the development of high-tech equipment in China as its mission, and uses advanced technology and perfect services to create greater value and win-win results for our customers!With years of experience and production practice, we strive to become a well-known benchmark micro laser equipment manufacturer with strong competitiveness.

The company has made remarkable achievements in the development and production of laser engraving machines. The company's main products are multi-type and multi-model laser engraving equipment. Among them, the micro-laser engraving machine developed by the company is capable of automatic image or text engraving . The laser machines sold by our company can be used in clothing, leather, advertising, craft gifts, plexiglass, electronics, electrical appliances, meters, metals, auto parts, apparel, wood industry, furniture manufacturing, model manufacturing, plastics, tobacco, packaging and printing and others.

The laser equipment sold by WAINLUX has been widely praised by customers in various industries due to its wide application industry coverage and strong industry practicability. At present, with the progress and development of the times, our company will also keep pace with the times and continue to seek innovation. Today, our company has a reasonable allocation of human resources, a smooth distribution system, and a professional and high-quality after-sales team. We serve our customers based on the business philosophy of "win-win cooperation, integration and mutual assistance"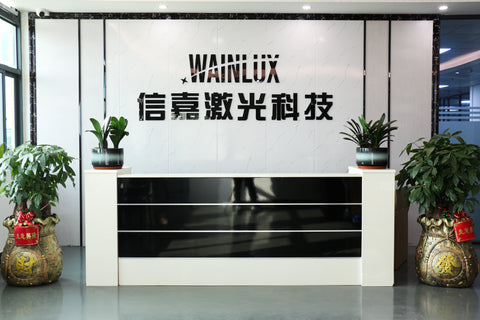 Wainlux R&D team while designing & testing the prototype of L3.